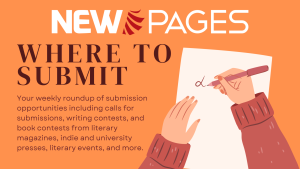 Spring has officially sprung and while weather has been a little less winter-like in our neck of the woods, it's still not the warmest. If you're weather forecast is just as fickle as ours, here are some great submission opportunities to use as an excuse to stay put and indoors this weekend.
Next Friday is the deadline to enjoy a 20% off discount on annual subscriptions to our weekly newsletter. This makes it just $40. Consider subscribing today to get first access to submission opportunities and upcoming events, the majority before they go live on our site.
Let's dive into our weekly roundup of submission opportunities without further ado.
Continue reading

"Where to Submit Roundup: March 24, 2023"