44 Submission Opportunities including calls for submissions, writing contests, and book prizes.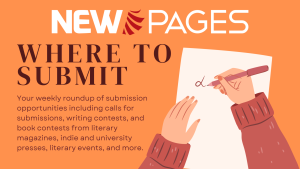 October kicked off with sunshine and 80-degree temperatures here in Michigan. Now we are back to colder and rainy days. Definitely fall weather and it never seems to fail that when its time to harvest, the rains come. If you're experiencing some gloomy weather, too, NewPages is here to brighten your day with our weekly submission roundup to help you find a home for your work.
Don't forget paid newsletter subscribers can get early access to the majority of submission opportunities and upcoming events before they go live on our site, so do consider subscribing or upgrading your subscription today.
Continue reading

"Where to Submit Roundup: October 6, 2023"