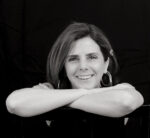 Guest Post by Zoe Dalley
"Our ideas of love were different, too. I wanted, I was desperate, to know you truly, Dad."
Beth Kephart's [pictured] short nonfiction piece "The Sum of Which Parts" focuses on a collection of items belonging to her now deceased father to let readers into his world at the end of his life during the COVID-19 lockdowns. From his wallet to a picture of his Wii bowling team, Kephart uses these items to help us understand what it was like for her father, and, in turn, what it must have been like at a time of extreme isolation for much of the older generation without the access or mastery over technology. Kephart then pairs the physical distance of the lockdowns, where she wasn't able to visit her father without the barrier of technology, with the emotional distance she feels existed between her and her father. Beautifully weaving the two together, "The Sum of Which Parts" effectively tackles the complexity of parent/child relationships, in particular during strange and unforeseen circumstances, such as a global pandemic.
---
"The Sum of Parts" by Beth Kephart. Upstreet, 2022.
Reviewer bio: Zoe Dalley is a graduate student specializing in literature, composition and culture. They have a particular interest in horror, experimental literature, and anything within the realm of the bizarre.