True Story is Coming Back!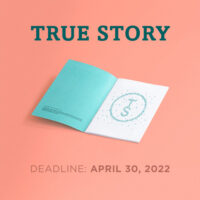 Creative Nonfiction has announced its journal for long-form nonfiction, True Story, is officially making its comeback this year. In fact, they are currently seeking submissions of essays between 5,000 and 10,000 words through April 30, 2022.
Each issue will feature one exceptional work of creative nonfiction and will be distributed in print and digitally. Writers whose essays are selected for publication will receive $750 and 10 free copies of "their" issue.
There is a $3 reading fee which is waived for current True Story and/or Creative Nonfiction subscribers.
Browse through past issues of True Story for an idea of what they are looking for.