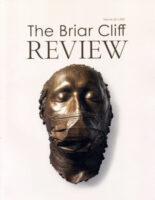 Magazine Review by Katy Haas.
In Volume 33 of The Briar Cliff Review, readers can find a poem that I think most people can relate to after the past year. "Gargoyles" by Sara Wallace describes the empty of feeling of craving someone else's touch. While the poem does lean toward the romantic side of touch ("No one's biting your lips, / no one's tasting you.), it comes at a time when I'm seeing my friends celebrate the ability to hug their loved ones again after, and ends up feeling more general. After being separated from friends and family during the pandemic, who hasn't missed the intimacy of touch?
Wallace carries the idea of gargoyles through the poem, first as a smoker standing in a doorway of a bodega, and finally as the game "statues, / how when you were tagged // you had to pretend you were stone," and could only move again when "someone touched you." I love this thread she carries through from present to past, keeping with that yearning for physical touch.
---
"Gargoyles" by Sara Wallace. The Briar Cliff Review, 2021.