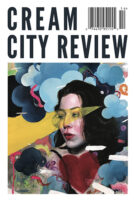 Guest Post by Mina Weeks
Like the famous Milwaukee cream-colored bricks, Cream City Review's Winter 2021 issue stands out from the crowd with its focus on marginalized works and experiences. In Robin Gow's "Sufjan Stevens and How I Taught Myself to Cry," the beauty and heartache of the trans experience dance with the anguish of familial trauma and bittersweet aftertaste of romance gone wrong. The inability to cry—and its ties to testosterone and holding oneself together with mere stitches—explores the helplessness of bottled-up emotions through the lens of singer/songwriter Sufjan Stevens, whose famously morose lyrics wield the power of tightened chests and melancholic sighs. Through this, Gow expertly captures the trans experience and its ties to emotional suppression and release.
---
"Sufjan Stevens and How I Taught Myself to Cry" by Robin Gow. Cream City Review, Fall/Winter 2021.
Reviewer bio: Mina Weeks (they/she) is a multi-marginalised K-pop stan who tweets, teaches, and writes fanfiction to get them through their existence. Find them on Twitter @minami_noel or on Instagram @meena.noel.