Magazine Stand :: Vita Poetica Journal – Summer 2023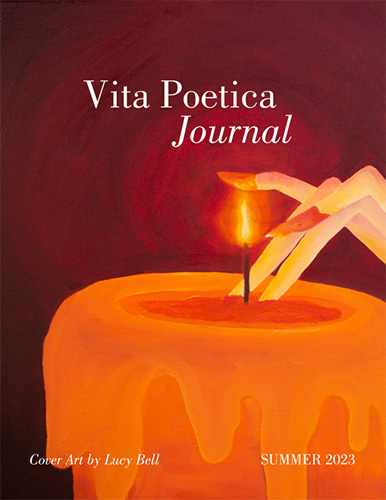 Vita Poetica Journal Summer 2023 issue of the online quarterly publication of creative work explored through a spiritual lens opens with the editorial "Forces of Endurance" by Caroline Langston and includes poetry by Hannah Hinsch, Paul Hostovsky, Phillip Aijian, Jack Stewart, Charles Haddox, Rachelle Scott, Sydney Hegele, Ginnie Goulet Gavrin, Joseph Byrd, Lane Falcon; fiction byd Emily Ver Steeg, James Roderick Burns; visual arts by Lucy Bell, Sarah Walko, Willy Conley. Cover art by Lucy Bell.
Features include the interview, "Art as Attention, Presence, Prayer: Visual Artist Scott Aasman" in conversation with Emily Chambers Sharpe and two reviews: "Spirit in the Dark Brings Religious Influence to Light: A Review of the Smithsonian Exhibit on Religion in Black Music, Activism and Popular Culture" by Mary Amendolia Gardner, and "To See Beyond Walls: A Review of Illuminations: A Novel of Hildegard von Bingen" by Cheryl Sadowski.
There are also two Contemplative Practices, which include guided practices with recorded as well as written instructions: "A Blessing for Your Breath" by Rebekah Vickery and "Drawing Praise: A Creative Reflection on Psalm 148" by Samir Knego.