Magazine Stand :: Ganga Review- 2023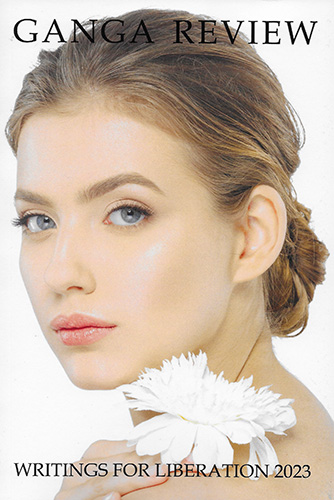 Named for the sacred river, the annual print Ganga Review is a journal of international writings for liberation inspired by a pilgrimage through India. The Ganga Review 2023 features Michele Alborg, Hila Amit, Edward Bruce Bynum, Ch'oŭi, Craig Czury, Daniel De Leon, Antonio Di Bianco, Craig Evenson, Jay Frankston, Ian Haight, Philip Jason, Ever Jones, Ziaul Moid Khan, Hareendran Kallinkeel, Richard Leise, Alexander Mercant, Emily Murphy, E. Martin Pedersen, Patrick Pfister, Sandro Francisco Piedrahita, Thomas Piekarski, Peter L. Scamardo, Stuart Silverman, Michael T. Smith, Joseph Thomas, Ana Vidosavljevic, Kwong Kwok Wai, Sarah Walko, and Saman Zoleikhaei.
To find more great reading, visit the NewPages Guide to Literary Magazines, the NewPages Big List of Literary Magazines, the NewPages Big List of Alternative Magazines, and the NewPages Guide to Publications for Young Writers. Subscribe to our weekly newsletter to stay up to date!