Review :: Two Poems by Maria Zoccola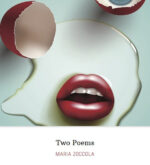 Guest Post by Hayley Davis
I came across two striking poems by Maria Zoccoloa while reading Booth online literary journal. I enjoyed the first poem, "helen of troy makes an entrance," because it is about the beauty of childbirth and compares it to an egg being broken to reveal a baby. The author talks about how she came into this world, a story waiting to be told and with a name meant to be given to her. The second poem I found to be equally interesting. Titled, "loggerhead excavation, tybee island," this poem is about a biologist hatching babies into the world. It is another poem exploring the gift of life, and how animals and people are born into this world with the intention of living and being free.
---
Two Poems by Maria Zoccola. Booth, September 2, 2022.
Reviewer Bio: Hayley Davis is 27 years old and living in Honolulu, Hawaii. Hayley is a student at Windward Community College studying for a liberal arts degree.
If you are interested in contributing a Guest Post to "What I'm Reading," please click this link: NewPages.com Reviewer Guidelines.