Review :: "How to Pray for Your Enemies" by Cristina Legarda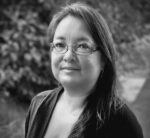 Post by Denise Hill
Like many well-intentioned meditators, I struggle with the concept of metta, that effort to show loving kindness both to ourselves and others, including our enemies. "Be like the Dalai Lama…" To which I respond, "We cannot all be Dalai Lamas." However, "How to Pray for your Enemies" by Christina Legarda [pictured] from the most recent issue of Sky Island Journal has been the keenest instructional I have encountered.
It begins, "First, get the fantasy of vengeance / out of your system. The way / you would core them out / with your sharpest knife…" which is the most un-Dalai Lama thought we might gravitate toward (and which Mindset author Carol Dweck says is prevalent in both the fixed- and growth-minded). After filling out this fantasy with additional detail (which feels more disturbing than satisfying – and rightly so), Legarda moves the reader to the next phase, to cry and "collect all your tears / and put them in the sun till all you have / is their salt [. . . ] and how tiny / the heap will seem to you, after all / those tears, a little mountain no bigger / than the print from your thumb." While that may seem dismissive, it actually acknowledges how the internalized pain and torment we manifest results in very little that is tangible or beneficial to us. It is both a validation and a call to "move on."
Legarda moves on by taking the experience from the external to within, taking the reader to go "sit alone in the desert" until the vision of a child comes, "the hungry child, crying child / hiding behind your enemy's face," telling the reader to embrace this child, "until you no longer wish / to cut out your own core; / until the child inside you / weeps no more."
With this, Legarda brings the instruction full circle to that initial vengeful evisceration, showing us how there is no other. The damage we do, we do to ourselves, and that child is our own self who needs loving kindness.
---
"How to Pray for Your Enemies" by Cristina Legarda. Sky Island Journal, Fall 2022.
Reviewer bio: Denise Hill is the Editor of NewPages, which welcomes reviews of books as well as individual poems, stories, and essays. If you are interested in contributing a Guest Post to "What I'm Reading," please click this link: NewPages.com Reviewer Guidelines.