Magazine Review :: Crazyhorse Spring 2022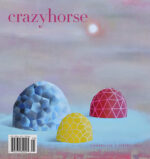 Guest Post by Cindy Dale
It gets expensive entering contests. So, I love it when a journal includes a copy of the contest issue with the entrance fee. Case in point: Crazyhorse. No, I didn't win, but the College of Charleston's Crazyhorse includes a year's subscription with your entry fee. From the very first story, Marian Crotty's "Near Strangers," I was hooked. Crotty masterfully interweaves the story of Betsy's evening as a hospital volunteer assisting a rape victim with the story of her own fractured relationship with her gay son. Pair this story with Daniel Garcia's unsettling poem about abuse, "What I'm Trying to Say Is." Kris Willcox's "In May" considers the long arc of a woman's life concluding with, "It's not the things that matter to me. It's the choices over what to keep, and what to throw away." The story closes with the narrator quietly feeding a handful of old sequestered photos into the fire pit. I found myself thinking about old photos again with Gregory Dunne's poem "Quiet Blizzard." The Crazyhorse Spring 2022 issue is 165 beautiful pages of an astounding range of fiction, nonfiction, and poetry. This is an issue to be slowly savored by readers all summer long, and for writers, the Crazyhorse Prizes in Fiction, Nonfiction, and Poetry open to submissions January 1-31 each year.
---
Reviewer bio: Cindy Dale has published over twenty short stories in literary journals and anthologies. She lives on a barrier beach off the coast of Long Island.
If you are interested in contributing a Guest Post to "What I'm Reading," please click this link: NewPages.com Reviewer Guidelines.