"An Email to the Rose Creek School Board"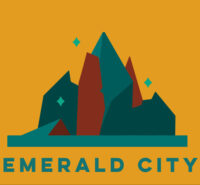 Magazine Review by Katy Haas.
I've been watching a lot of comedy movies and TV shows lately, enjoying the much needed escape from reality, so it makes sense that I'd gravitate toward Wesley Korpela's "An Email to the Rose Creek School Board" in the Fall 2020 issue of Emerald City.
Korpela writes an email to the "Members of the Facilities Committee" from Genevieve Powers-Harrison's point of view. Genevieve requests the elementary school's name be changed to honor her still-living ex-husband Carl. Carl's obsession with getting on the show America's Funniest Home Videos drives the couple apart, but ultimately Genevieve believes he deserves the award as "a 'win.'" After all, "he's a nice enough man."
I loved the voice Korpela gives to Genevieve and found the obsession with AFV to be a fun and fresh twist on the divorce story. There's no ill-will between the two, just many failed attempts at five seconds of fame. A good, silly story is just what I needed.