Review :: "Plague Novel" by George Estreich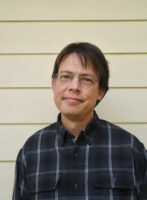 Guest Post by Zackary Gregory
In the short essay "Plague Novel," published in Southern Humanities Review, George Estreich [pictured] uses Colson Whitehead's novel Zone One to make sense of his lived experience through the outbreak of Covid-19.
The essay begins in a small room filled with the "breath and bodies" of people slowly exiting a literary reception. A poet approaches and asks, "You write about science. Should we be worried about this coronavirus thing?" Estreich responds by "disavowing expertise," but states that from what little he has read, "our behavior mattered." In "a few weeks the great blur would begin," people would start hoarding rolls of toilet paper in sparse grocery stores and his "hands would be cracked and raw" from applying hand sanitizer.
Estreich threads in a rich literary analysis of Zone One, drawing parallels and using scenes from the novel to name the mania caused by the pandemic. He describes Americans responding to crises like the characters in the novel, "Zombie-like, they cling to old routines, old stories, as the world falls apart around them." Estreich claims the novel was "an escape true to the present's depths," depths he wouldn't be able to plumb without Whitehead's novel.
---
"Plague Novel" by George Estreich. Southern Humanities Review, v55 n2, 2022.
Reviewer bio: Zackary Gregory (He/him) is an English grad student at Utah State University in Logan, Utah. He likes bikes and books.