Review :: "Café Loup" by Ben Lerner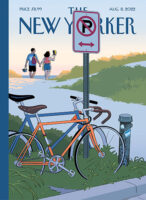 Guest Post by Sade Frame
"I started to narrate my choking to myself, as if transforming it into a story would keep me connected to a future in which I might tell it."
Ben Lerner's New Yorker short story, "Café Loup," describes, in an almost comedic manner, the narrator's fear of dying, his skepticism regarding the circumstances surrounding death, (how his family would react if he passed, the manner in which it happened, et cetera), life regrets, and the concept of mentally postponing his own demise. The piece opens, "When I became a father, I began to worry not only that I would die and not be able to care for my daughter but that I would die in an embarrassing way. . . " In the story, the narrator chokes on a piece of steak at a restaurant, and in the first few moments, he looks back on his life. Readers get glimpses of his past, his values, his inner turmoil, and his regrets through Lerner's use of exemplary imagery with each of his rambling – though always connected – thought loops. One of the more important elements highlighted in this piece was his relationship with his daughter, and how he felt that he deserved to die in the cafe because he wasn't adequate enough or somehow deserved it. It truly highlights that we cannot afford to take any moment for granted, for we do not choose our time.
---
"Café Loup" by Ben Lerner. The New Yorker, 29 Aug. 2002.
Reviewer bio: Sade Frame is a Hawaii resident who is an aspiring recording artist and avid book reader.