Review :: "Deathbed" by Anna B. Moore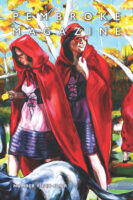 Guest Post by Sandra Edwards
Anna B. Moore's "Deathbed" essay in Pembroke Magazine describes the end of her father's life from her perspective as his primary caretaker. As a narrator, she questions her relationship with her father, but her feelings seem to change as she navigates his dying state. Rather than being a story of redemption or some other giant paradigmatic shift, it is instead one of understanding as she reflects on her father's character. Interwoven with this narrative is her experience staying in a rented basement apartment while she is away to take care of her father.
Each scene offers details that serve to characterize her father, such as the description of his bedside table in the hospital: "Cluttered with old books, used drinking glasses, folded newspapers, used Kleenexes, his wallet, some coins and pens, a magnifying glass." She also emphasizes his breathing throughout the piece, almost rhythmically, so that we not only see his physical deterioration into death, but also gain insight into his feelings just as she does. A seemingly simple piece on the surface, Moore captivates the reader and approaches the subject of death in a familiar yet sincere way.
---
"Deathbed" by Anna B. Moore. Pembroke Magazine, #54, 2022.
Reviewer bio: Sandra Edwards is a college student and aspiring writer currently pursuing her master's degree.