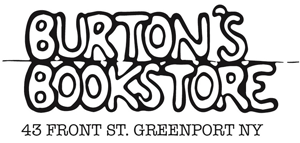 43 Front St.
City: Greenport
Phone: (631) 477-1161
Type: New books
Specialty: General Interest, Children's, Crime/Mystery, Literary, YA
Sidelines: Greeting Cards/Postcards, Puzzles, Stationery
Events: Author Signings
Proudly supplying Long Island's North Fork with great reads since 1979.  We have a diverse and eclectic variety of books available for all ages.  Our friendly staff is always ready to recommend your next great read or just have a chat.  Open year round.